I was on youtube when I came across...THIS.
It's BabyMail, from Etrade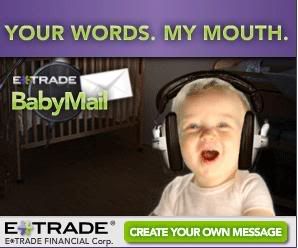 I saw it and I was like "Oh no..." and just had to post it. The site lets you "Create your own E-Trade baby video here. A baby's face talking in your voice. It's fun!"
I'm sorry, but I think I have a different idea of 'fun' than the Etrade ad department. It's as if they were to say "Have a lobotomy! It's fun!" Because we all know that people who make TV ads about puking kids and "milk-addicts" are the experts on fun!